Alpine team boss: 'Both drivers thought Australia crash was their fault'

Otmar Szafnauer has confirmed that Alpine's upgrade in Baku will still proceed as planned. On the F1 Nation podcast, Alpine team bosses explain how the team is responding to the crash of two drivers in Australia, and how it threatens to derail plans.


Norris didn't expect F1 points in Spain even before Hamilton clash
McLaren driver Norris scored a season-best third in Spain, but he won when he clashed with Hamilton's Mercedes on the first lap and had to pit at the end of the opening round. Hopes for points were dashed.
Hamilton escaped without major damage and went on to finish second.
After his final 17th place, Norris stressed that even before the touch, he expected points struggles due to McLaren's continued struggles with speed and the position of several drivers further out.
Mercedes driver George Russell recovered from 12th to third, while Sergio Perez's Red Bull team moved from 11th to fourth on the grid.
Norris said: "The pace today was as expected, which is bad. I don't think we were really expecting anything else.
"Our aim was to possibly score points, but we didn't expect it to be like yesterday."
Asked if points would have been possible without Hamilton's influence, Norris replied: "Probably not, no."
He then added: "Because we're slow, we've had a full year. I don't know, there's nothing to say.
"Yesterday was a special day. Some good teams struggled and some worse teams did better, so it was just a weird day, people made a lot of mistakes and we just took advantage of that.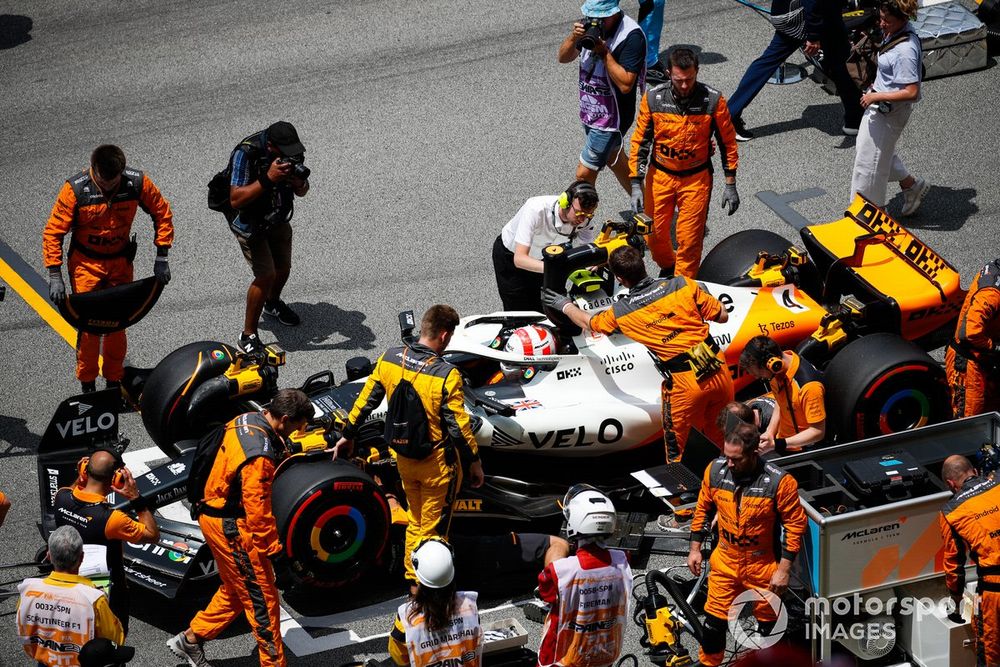 Lando Norris and the grid mechanic for the McLaren MCL60
Photography: Jack Grant / motorsport pictures
"Other than that, we've been behind all season and struggled for points halfway through the race. It was the same thing today. People expected us to have a very tough day today.
"We're obviously nowhere near Alpine, Aston or all these top five, top six teams.
"It's pointless to think 'we're going to score points' because we're not going fast enough."
Explaining the clash with Hamilton, Norris said it was sparked by Hamilton checking to avoid Max Verstappen and Carlos Sainz as they recovered from off-track runs while battling for the lead going into Turn 1. .
Norris described it as "just a racing incident", explaining: "I did see Max go off the track at Turn 1, go a little wide, so he had to roll over the curb at Turn 2 and then Everyone checked it out.
"I was too close to Lewis to react and brake and all that. So it was just an unfortunate moment. Lewis was fine, he didn't do anything wrong."
Marko on excelling Verstappen: 'Apart from that it was perfect'

Max Verstappen has 26 points after the weekend's Spanish Grand Prix. Helmut Marko is very pleased with his driver's fifth victory of the season. Afterwards, the 80-year-old Austrian veteran also talked about Verstappen's insistence on driving the fastest time.


Leclerc missing out on points in Spain: 'Will analyse what went wrong'

Charles Leclerc finished a rather disappointing race in Spain. After qualifying 19th and starting from the pit lane, the Monaco driver was unable to overtake Pierre Gasly on the final lap and finished just outside the points points for 11th. His teammate Carlos Sainz finished fifth.